What are Online Scams?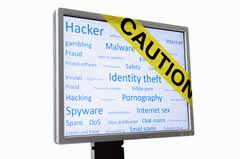 Online Scams is a broad category that includes Hacking and Phishing. There are only subtle differences between each of these.
Hacking is when someone breaks into a website(s) for the purpose of obtaining personal information they can use against the company or user. Information stolen can include addresses, passwords, credit card information, etc.
Being hacked may also leave traces of malicious code designed to ruin the functionality of a website or one of its pages. This is similar to phishing but can be on a much larger scale.
In 2009 three men in New Jersey were indicted in one of the largest identity theft cases known. The justice department further stated it was one of the largest in American history as 130 million credit and debit cards were stolen in a large corporate "data breach". Those who were indicted used a sophisticated method to exploit the company's computer network.
It seems like we have seen an increase in online scams and data security breach's in the US as of late. In 2009 the Privacy Clearing house a nonprofit organization that tracks all publicly disclosed US data breaches said that 230 million records were compromised.
Is being Hacked Spreading?
Social Media like Facebook and Myspace are some of the new targets for scams where thousands of computers are being hacked everyday.
Have you received a call or email from one of your friends who says "if you got an email from me with a link" its not from me, someone "hacked" my Facebook account and sent out emails to all of my "friends", this is another example of a scam as well.




Is there a way to prevent my computer from hacked?
If you have Cable or DSL broadband in your home, chances are you are likely to be "attacked" by hackers.
You need to be vigilant regarding good home security. What is good home security?
• Anti-virus software
• Firewall protection
• Spyware / malware software
These are not optional in today's world they are a necessity.
Identity-Theft-Answers.com will help provide you the information you need to make the right choices to protect your computer.






Return to the top - Online Scams

Back to Types of Identity Theft

Back to the Home Page