Medical Identity Theft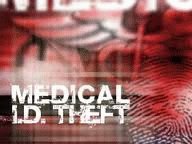 Don't panic but medical identity theft thieves maybe using your personal health information to get medical treatment, prescription drugs and or surgery.
One of the latest trends in Medical Identity Theft is stealing Medical Identities. Perhaps you had thought that like most people that identity thefts were limited to credit card transactions or some other kind of fraud where some uses your name to take out a loan or buy a car. Guess what, NOT true.
According to many in the industry, Medical Identity Theft is on the rise because it's profitable, and the increasing use of electronic health records makes more data accessible. Medical Identity information can be worth hundreds of dollars in the black market.
This past year the Ponemon Institute, sponsored by Experian ProtectMyID, released their second annual National Study on Medical Identity Theft. The study concluded that roughly 1.5 million Americans are victims of identity theft. And, according to the study, the average cost to resolve a case of medical theft is over $20,000.

Types of attacks that lead to medical identity theft:
1. Family member stole credentials (36%)
2. Mailed statement intercepted by criminal (8%)
3. Phishing attack (6%)
4. Lost Wallet (9%)
5. Breach at a health care provider (14%)
6. Breach of data – not sure how (17%)






How do you know if your Medical Identity has been compromised?
According to the Federal Trade Commission (FTC), you may be a victim of medical identity theft if:
• you get a bill for medical services you didn't receive;
• a debt collector contacts you about medical debt you don't owe;
• you order a copy of your credit report and see medical collection notices you don't recognize;
• you try to make a legitimate insurance claim and your health plan says you've reached your limit on benefits; or
• you are denied insurance because your medical records show a condition you don't have.
Medical Identity Theft could alter or change your medical and health insurance records. When a thief uses your personal information to received care, it can impact your medical history and alter future care based on compromised medical records.






Is there a way to prevent Medical Identity Theft?
There is no 100% way to prevent and to avoid medical identity theft, the FTC suggests there are ways to reduce your personal risk.
1. Verify a source before sharing medical information. Don't give personal information on the phone or through the mail unless you have initiated the contact. Know who you are talking to, some medical identity thief's appear to the unsuspecting as employees of insurance companies, doctors offices, clinics or pharmacies.
2. Safeguard you personal medical and health information. If you have or keep copies of your medical records make sure they are kept in a secure place. Like all confidential papers these can be used improperly in the wrong hands. Make sure that any online sites where you have medical data stored have secured "url". Additionally understand that email is not considered "secure".
3. Trash needs to be treated carefully Identity thieves love to pick through trash and recycling bins to capture your personal information. Destroy your health insurance forms including prescription and physician statements. It is recommended that you invest in a shredder.


Detecting Medical Identity Theft
1. Check closely your Health Insurance companies (EOB) Explanation of Benefits that your health plan sends to you after each treatment. Make sure the claims paid match the care received. Carefully check the provider, date of service and service provided for any discrepancy. If there is problem immediately contact your care provider.
2. Order a copy of your credit reports and review annually. Credit reports contain a lot of information about you including payment history. The law requires each of the three (3) major credit agencies to provide you with a free copy of your credit report if you ask for it. To order this go to www.annualcreditreport.com or call 1-877-322-8228. You can also visit the FTC website and download a Credit Report Request Form at www.ftc.gove/freereports.


3. Ask for a copy of your medical records. If you suspect or believe you may have been a victim of medical identity theft request a copy of your health insurance records. The Health Insurance Portability Accountability Act (HIPAA) Privacy rule gives you a right to copies of your records maintained by your health plan, and medical providers. They are required by law to provide you copies within 30 days of your request. You may have to complete a form for the request and pay a fee to get a copy of these records.
4. Copies of any accounting disclosures. The law allows you to order one free copy each 12 months. This accounting record is a:
a. Date of the disclosure
b. The name of the person who received the information
c. Brief description of the information disclosed
d. Brief statement of the purpose of the disclosure or a copy of the request for it.
For more information about your privacy rights under HIPAA, go to www.hhs.gov/ocr




Victim of Medical Identity Theft
If you find that you are a victim of Medical ID Theft there are a number of steps that you can take immediately. Keep copies of all conversations and communications that you have had.
1. File a complaint with the Federal Trade Commission online at https://www.ftccomplaintassistant.gov or by phone 877-438-4338.
2. File a report with your local police; additionally send copies of the report to your health plan fraud department as well as the three national credit reporting agencies.
3. Exercise your right under HIPAA to correct errors in your medical and billing records. Contact your health provider disputing the error and request the error be corrected or deleted. In general most health plans and or medical providers must respond.
Other Steps to Consider
There are a number of other steps to consider:
1. Fraud Alert – this will help prevent an identity thief from opening additional accounts in your name.
2. Security Freeze (Credit Freeze – this method will block access to credit in your name.
Your medical health cards are as important as your driver's license and your social security number and must be protected at all time. Identity-Theft-Answers.com will review these in other articles.





Return to the top - Medical Identity Theft

Back to Types of Identity Theft

Back to the Home Page
Has your Personal Information been Stolen from your Dr's office?
Do you have story about this? Share it!
What Other Visitors Have Said
Click below to see contributions from other visitors to this page...

Manager Not rated yet
Very simply, I filled out standard new patient forms at my doctors office, one page contained all the info an identity thief needed to apply for loans …