Drivers License Fraud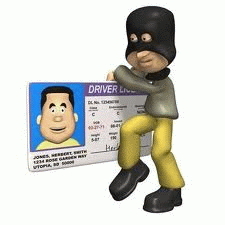 Drivers license fraud includes the use of another person's identity, the submission of counterfeit identity documents, and all other activities intended to obtain a driver license or identification card by a person or for a person who is not eligible for issuance of such a document.
Examples:
• Presentation of counterfeit immigration documents (such as a "green card") by an undocumented alien who is not eligible for a driver license or identification card.
• Presentation of a counterfeit birth certificate or social security card created on a personal computer by scanning a legitimate document and printing it out on a color printer after changing the identity information.
• Presentation of a legitimate birth certificate belonging to another person.




Is your Drivers License secure?
Maybe or maybe not!
Have you ever had your wallet or purse stolen? This is one of the more common types of Drivers License Fraud and Identity Thefts today. This can happen to any of us. Beware.
Tips to avoid Drivers License Fraud
• Guard your Drivers License the same as you would your Social Security Card.
• Never use your license as a "security deposit" to test drive a car at a dealership.
• Never leave your license out of your possession for any reason.
What happens to stolen Driver's Licenses?
They usually get sold to someone that looks like you. It's then easy for that person to then get other forms of identification in your name.
This type of them could be used by someone who is illegal who needs to validate their residency, or by some criminal element who wants to sell false ID's on the black market. Driver's license can have a value of over $100 today.
If your driver's license gets stolen, what should you do?
1. Contact your State Department of Motor Vehicles asap to report the theft.
2. Request a new Drivers License number is appropriate.
3. Report the incident to the local police and file and Identity Theft report.
4. Don't wait – do it right away.
Preventing Drivers License Fraud
You can help to protect your driving license from a drivers license fraud by ensuring that your old licenses get discarded of in the proper manner. When you receive your new license you should be sure that your old one is either shredded or cut into small pieces so that the license or your information cannot be used again by someone else, this is especially important if you are receiving your new license through the mail.
Another thing you can do is to purchase a copy of your driving record each year so you can make sure that no one else is using your identity when they are stopped in traffic.
You can also look at your credit report and make sure that everything there is accurate. Additionally, many criminals get the information that they use on drivers license scam operations from stolen mail, so make sure you pick up your mail every day and that if you are going to be away that you stop delivery altogether for that time.
If your driver's license has been stolen or has been compromised in any way you need to start by reporting this fact to law enforcement. You then need to contact the department of driver's license in your area and they will issue you not only a new license, but a new driver's license number, which is usually the most valuable piece of information on the license as it can be used on a fake ID.
The idea is to act quickly, because the sooner you report the loss, the theft or the driving license scam, the sooner the proper authorities can be made aware of the actions and they can help to put a stop to the scam or at least stop the person who is using your information or potentially using your information in an illegal and unauthorized manner.



Return to the top - Drivers License Fraud

Back to Types of Identity Theft

Back to the Home Page