Terms of Use & Disclosures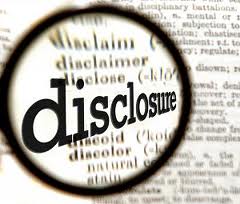 You should carefully read the Terms of Use before using Our Site.
By using Our Site or indicating your agreement to be bound by the Terms of Use. This is a legally binding agreement. If you do not agree with the Terms of Use you should not use Our Site.
1. We agree to provide you access to Our Site in accordance with the Terms of Use.
2. You agree to use Our Site in a manner consistent with any and all applicable rules and regulations.
3. You accept that Our Site is provided on an "as is, as available" basis.
4. DISCLAIMER
ALL ARTICLES AND MATERIAL DISPLAYED BY US ON OUR SITE ARE FOR INFORMATION ONLY AND ARE NO SUBSTITUTE FOR SPECIFIC ADVICE.
Identity-Theft-Answers.com is dedicated to helping you find the answers and information regarding identity theft for your personal situation.
However, the information provided herein is NOT legal or financial advice. It is for informational purposes only.
Identity-Theft-Answers.com is not meant to replace the guidance of a competent legal or financial advisor.
Your use of any information provided on this site, in the newsletters issued by this site, products directly on this site, or sites we link to, is solely at your own risk.
Identity-Theft-Answers.com does not provide any warranty or guarantee as to the merchantability or use of the information provided, or third party products to which we link.
5. We may, for marketing purposes, collect and review data obtained from and about you in the course of your accessing our site
6. You are not authorized to download any of the content on our Site without permission.
7. Subject to the above, you may not modify, copy, distribute, republish or upload any of the material on our Site without our prior consent in writing. No intellectual property or other rights shall be transferred to you.
8. To the extent that portions of our Site (such as "chat rooms" or "bulletin boards") may provide users an opportunity to post and exchange information, ideas and opinions ("Postings"),
BE ADVISED THAT WE DO NOT SCREEN, EDIT, OR REVIEW POSTINGS PRIOR TO THEIR APPEARANCE ON THIS WEB SITE, and Postings do not necessarily reflect our views.
To the fullest extent permitted by applicable laws, we exclude all responsibility and liability for the Postings or for any losses or expenses resulting from their use and/or appearance on our Site.
9. To the fullest extent permitted by applicable laws, we, on behalf of our employees, agents, suppliers, and contractors exclude liability for any losses and expenses of whatever nature and howsoever arising, including without limitation any direct, indirect, special, punitive, or consequential damages, loss of use, loss of data, loss caused by a virus, loss of income or profit, loss of or damage to property, claims of third parties, or other losses of any kind or character, even if we has been advised of the possibility of such damages or losses, arising out of or in connection with the use of this our site or any web site with which it is linked. You assume total responsibility for establishing such procedures for data back up and virus checking as you consider necessary.
10. We reserve the right to monitor all materials posted on any bulletin board on our sites ("Postings") and to remove any which we consider in our absolute discretion to be offensive or otherwise in breach of these Terms of Use.
11. You hereby represent and warrant that you have all necessary rights in and to all Postings you provide and all material they contain and that such Postings shall not infringe any proprietary or other rights of third parties.
12. Where we may provide hypertext links to other sites we do so for information purposes only, and such links are not endorsements by us of any products or services in such sites and we accept no liability nor make any endorsement or approval of the same.
13. The Terms of Use contain the entire understanding between us with respect of Our Site and no representation, statement, inducement oral or written, not contained herein shall bind either of us.
14. Should any part of the Terms of Use be declared invalid or unenforceable by a court of competent jurisdiction, this shall not affect the validity of any remaining portion and such remaining portion shall remain in full force and effect as if the invalid portion of the Terms of Use had been eliminated.
15. This Agreement is governed by the laws of the State of Tennessee, without regard to principles of conflict of laws.
To the extent you have in any manner violated or threatened to violate Identity-Theft-Answers.com and/or its affiliates' intellectual property rights, Identity-Theft-Answers.com and/or its affiliates may seek injunctive or other appropriate relief in any state or federal court in the State of Tennessee, and you consent to exclusive jurisdiction and venue in such courts.
Any other disputes will be resolved as follows:
If a dispute arises under this agreement, we agree to first try to resolve it with the help of a mutually agreed-upon mediator in the following location: Shelby County, Tennessee. Any costs and fees other than attorney fees associated with the mediation will be shared equally by each of us.
If it proves impossible to arrive at a mutually satisfactory solution through mediation, we agree to submit the dispute to binding arbitration at the following location: Shelby County, Tennessee, under the rules of the American Arbitration Association. Judgment upon the award rendered by the arbitration may be entered in any court with jurisdiction to do so.
October 15, 2011 Identity-Theft-Answers.com







Return to the top - Disclosures

Back to Legal

Back to the Home Page